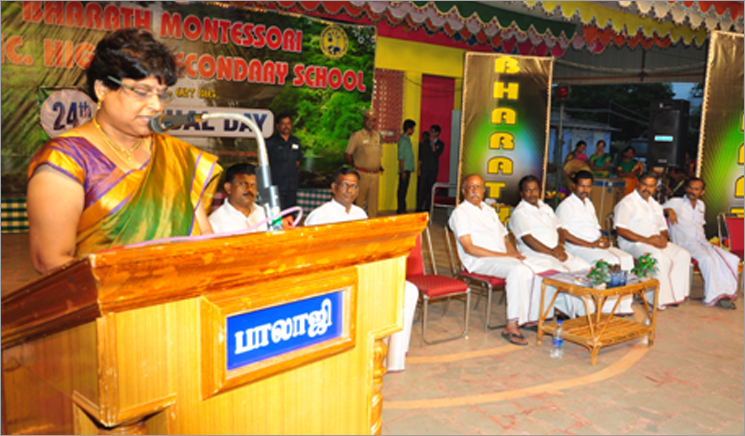 "God welcomes us with open arms and imparts to us blessing upon blessing - not because we are so good, simply because he loves us so much"
- such are the inspiring words of Sri Matha Amrithanandamayi.
"When you focus on being a blessing, God makes sure that you are always blessed in abundance".
With the blessings of Almighty, I take the opportunity to present the Annual Report of the Academic Year 2016 – '17. It is our great honour to have Mr. Karuppiah, District Judge, Labour Court, Tirunelveli to officiate here at our celebrations today. I also pass on my host of pride and appreciation to Mr.H.Venkateshwaran FCA, Senior Associate, Transaction Advisory Services, Chennai and above all, our Alumini of Bharath!
Results
At the X Public Examination 2016 – '17, 224 students appeared and all were successful. S.Abisneka and K.Priyadharshini scored 496/500, and stood as I school toppers. Abisneka has scored centum in Maths and Social and Priyadharshini has scored centum in Maths, Science and Social. Our II Topper is Azeeba Hawwa who has scored 494/500. She has taken centum in Science and Social. Our III Toppers are Varun Raj, Azima Shrin, Judith Fatima, Shiva Meenakshi and Subigshaa. Their total is 493/500. Their centum in Maths, Science and Social are remarkable. Above all 2 students got a total of 99/100 in Tamil, 7 students got 99/100 in English. At this juncture, we appreciate the laudable effort of the Organisers and teachers.
Another enriching success is our XII std Public results. 314 students Appeared and all were successful. Akshaya scored 1178/1200 and stood school I. She scored centum in Maths and Chemistry. Our 2nd Topper is J.Rubinaa with 1169/1200. She has scored centum in chemistry and 195 in English. Naveenkumar out 3rd topper scored 1167/1200 with centum in commerce. Our students have evinced 6 centum in chemistry, 3 in Maths, 1 Computer Science, 4 in Commerce and 5 in Accountancy and 1 in Business Maths. 75% of our pearls have cleared NEET Exam and are awaiting eagerly to enter Medicine. Our heartiest wishes to the students, special congratulations to the members of staff, organisers and parents of X & XII for their stead fast cooperation and support.
Generous Contribution
"Gratitude starts a chain reaction to Happiness". Yes, its time to endow our thanks to the host of sponsor. We thank Dr. Vijaya Gopalan, Chemba Clinic, Shencottah for his contribution to the topper of the 10th Public Exam with Sri Narayanan Memorial Cash award of Rs. 2,500/-. I also thank Dr. Subramanian, Siva Hospital, Tenkasi for his contribution of Rs. 1,005/- to the Hr. Sec. Topper. and Mrs. Latha Senthilkumar for her contribution of Rs. 3,000/- to the 12th topper, in memory of our father Mr. Murugiah. I also extend my gratitude to our well wisher Mr. R.M.V Raman, Bangalore for his Best All Rounder Award, in memory of his father Athoor Sri. Ramasamy Iyer. This year the award goes to I. Gopiga with immense happiness. I thank Dr. Mr. Kamala Selvaraj, Chennai for Gemini Ganesh Alamelu in memory of her father Actor Gemini Ganesh and her mother Alamelu Gemini Ganesh to the 10th topper every year by her magnanimous endowment of Rs. 25,000/-. Adding a feather, I thank Mrs. Chandra Ramasubramanian, Madurai the well wisher of Bharath for her generous endowment of Rs. 10,000/- to the language toppers of 12th std in memory of Mr. Ramasubramanian. Akshaya and Naveen kumar have been awarded the language toppers in tamil and Rubinaa in English. An other innovative award is also instituted by Mr. Sridhar, Managing Director, Joey Animation films, Bangkok to the deserving student in field of science and technology in the name of his mother Mrs. Jayalakshmi Rajamani with the cash award of Rs. 10,000/-. This year the award goes to D. Preethi of XII std. I also deem it as a very great pleasure to thank Mrs.Malathy Sundarrajan, Triuvandrum for her generous endowment for the super singer award. This year the award goes to H. Balasubramanian of XII std. The Management honours the all rounders of Kinder garten, primary, middle and high school levels every year. Rithika of UKG, Janani Meenakshi, Soufia Regina, J. Raam and H. Karthika are the all rounders. Above all teachers are given awards for their noble service Ms. Deepa, Mr. Jayaharan, Mrs. Uma, Mr. Balasundar, Mrs. Vallimayil, Ms. Selva suganthi, Mrs. Vasanthi and Mr. Dhanasekaran were honoured. Teachers who have completed 10 years are also honoured every year.
Cultural Achievements
Scholastic and Non-Scholastic achievements do not confine only with Academics, but also in the field of competitions, cultural and school activities. The year began with Environmental Day Celebration with varied Contests. Shafika Begum, Lethika, Arjunan, Abarna Menashmi and Roshan Jaffrin won prizes in fingerprint and drawing contest conducted at District Science Centre, Tirunelveli, followed by World Blood Day Painting contest. 10 of our students won prizes. Einstein Engineering College, Alangulam organized cultural contest and Blessy Stejil of XII std won I place in Elocution, Sneha Priya of X std won II place in Mono Act and Our students won III place in group fancy dress show. Veera Vanchinathan and Peraringar Anna Birthday Contests were held. H.Karthika of XI std won I prize under District Level and won a cash prize of Rs.10,000/- at State Level. Ramalingam Mandram, Chennai conducted Music Contest. Madhura and Heshmitha won prizes under district level and later won special prizes under state level at Pollachi. Saral vizha marked the beginning of seasonal change at courtallam. Gavin Deral of XII std won I prize in Painting Contest and Srinithi of X std won II place. Tamil Drama inter-school contest was held at Tenkasi and the team members of Bharath competed under District Level Hariprashanth, Anju and Gavin Deral won I and II prizes in Photography and Painting contest held at District Science Centre, Tirunelveli. Civil Engineering Association, Tenkasi conducted cultural contests. Pon Roshini, Ilakkiya, Mathura and Lakshmi won I prize and III prize in music contest. CROSA Inter-School Competition, Tuticorin was held in the month of August. Our students won fabulous prizes in Mathemagic, Finger Painting, Decoration, Drawing, Villa Path, Face Painting, Dance and Music contests. JRC Inter-school contest was held at Tenkasi. H.Karthika, Sneha Priya and Arivarasi won II Prizes in Elocution, essay and Painting contest. Senthil Andavar Polytechnic college, conducted Ritya Utsav Contest. Our students won I prize in Pencil Drawing, Facial Painting, Vegetable Carving, Group song and Fashion Show contests. Painting and English Elocution contests were held as a part of space week, at District Science centre. Abubucker Siddiq of XI std, Gavin Deral of XII std won I prize in English Elocution and painting contests. The Dept of School Education conducted Kala Utsav Contest in Visual Arts. Our students won I prize and competed in District Level to Vivekananda Kendra Contest, Kurichi Library contest and Individual Talent contest gave a platform to the students in varied show. Our students won I prize in Elocution and painting contests! To commemorate Dr.Abbulkalam's birthday, District Science Centre conducted Science Project contest. Our students B.Ramya and Muthulakshmi won I prize under District Level and competed for State Level too. ICAI conducted debate contest under District Level. Abubukkar Siddiq won I prize. Our students won I & II place in Barider Awareness contest, in Elocution Essay and painting.
Our students proved their mettle in Talent exams too. S.Arun Shankar, S.Raiz and Antony Jefrin won prizes in State Level Spell Bee contests. J.Raam, Anbu Selvan and Akilan of IX std won I prize in L.N.Charitable Trust, inter school quiz contest. Series of Quiz contests were held at District Science Centre, Sankarankovil, Senthilandavar Polytechnic College, V.K.Puram, Thulir Publication, Individual Talent Quiz, Coimbatore and Puranava Quiz. Diabetes Day Inter-School contest was held at District Science Centre Sree Hari Priya, Siva Sankari and Harini won I prize and Mahaboob Nisha won II prizes in painting contest. Ashwariya and Parameshkannan won III prize in Sonnet and Pencil Sketch Contests held at Tuticorin. our students won the Overall Shield in S.R. Miracles Inter-school contest held at Surandai. Mepco Engineering College, Sivakasi, conducted Inter-school contest. Our students won I and II prizes in painting and quiz contest.
Inspire Award is a prestigious honour to students in Science Project. K.L.Archana of XI std took part in the science project contest won the 'Inspire Award' at State Level and she also competed in National Level too. Our school won the Runner up trophy in Kiddival Inter-school contest, organized by RMKV Tirunelveli. 25 students competed in State Level Unified Cyber Olypiad Exam and came out successfully. P.Devesh Kalidasan, Srinika Sarojini won the state I Rank in Proficiency Test in English. Organized by Shakespeare Institute of English Studies. R.Vikaraman won the State II, Shreenithi, Shameera State III respectively. Shreejith won state II in Spelling Contest and Devesh Kalidasan won State II in Science Talent Exam. Vijay Balram of XI std was the winner of National Level Essay contest with a cash prize of 15,000 and laptop. Rubinaa and Akshaya of XII std won I & III prize in chemistry Talent Exam, held at Sri Parasakthi College, Courtallam. 30 students came out successfully with Distinction in AAA Exam. Global Warming Talent kids was held and 11 of our students won I prize in the Talent show. 70 students won special prizes in District Level Ramayana Talent Contest organized by Sri Ram Trust, Srirangam. Techno Institute, Chennai conducted computer Talent contest. Srijith of IV std won the computer research scholar award in the contest. 18 students competed in state level wordsworth spellbee contest. Sai Ram and Aruna Sankar won the I place in the state level. The academic year began with the environmental day and ended with world Earth day celebration in April 2017.
Sports Achievements
Sports is indeed a vital tonic for the growth of student community. Our students achieved fabulous awards and shields in the field of sports. Hamsa Vardhan of VIII std is indeed the Champion of Athletics and won cash award of Rs.6000/-, Individual Championship Trophy in Divisional, Zonal, District and State Level and also on National Sports Day. M.Tharsha of XII std won in the selection finals in Archery contest. Our students won the championship trophy in Zonal and Divisional Athletic games, Interschool chess tournament, football tournament, Table Tennis, Sports Festival in Basket Ball, Badminton and State Level Archery Contest. We also won the championship trophy in Tenkasi Educational District Athletic Meet and District Level Yoga contest. Special Applause to Abinaya in Yoga, Sylesh Viswanathan in Chess and Hamsa Vardhan in Athletics for their extra ordinary effort in sports and games in State and National levels. Devasenapathi won the C.M.Trophy in District Level Judo Contest. S.Sakthi Prema won the Yoga Sree Championship award in State Level Yoga contest, held at Thirupoor. Hamsavardhan, Peer Mohameed, Mohamed Abdul Halith, Mohamed Nishanth and Tahseen Abdul Majid won cash award of Rs.6000/- in regional level Athletic Talent Sports.
Celebrations
Bharath gives a wonderful platform to all celebration in the school. We celebrate national functions like Independence Day, Republic Day, Gandhi Jeyanthi, Children's Day, Teachers' Day and festivals like Dursera, Ramzan, Bakrid, Christmas, Onam, Diwali etc. Special Awards in class room contest is also given like Best Volunteer, Honest Abe, Witty Child, Lovely Listener, Home Work Hero, Spectacular Speaker, Kindness Counter, Morning Brisker, Tidy Master, Best Sports Champ, English Speaker, Caring Classmate, Speller Champ, Perfect Punctual, Super Studious, Speedy Reader, Mr. Manners and Ms. Manners. NICE Education play a pivotal role in the campus. The English trainers make spectacular efforts by creating an English speaking environment among the students.
Platform to teachers
Teachers also are given amazing opportunity to compete in contests in CENTA Global Olympiad Exam and Teachers' Day special Inter-school contest. They also attend workshops organized by Oxford Publishers, Collins publishers and Story Time Workshop, Readers Workshop, Science Training Camp, Scouts and guides Training camp etc.
Management VS Generosity
The Management endow a wonderful platform to the student community in every walk of life. They evince free education and concession on education to the deserving students. They also take a mile stone generous effort by giving special concession to pursue education to the wards of teachers. Apart from this they also sponsor special monitory gifts to physical education departments during Zonal and District matches, inter school contest at the District and State levels. Financial appreciation awards are given to the toppers of Public Examination in X and XII std every year since 1996. Teachers who evince centum in the respective subjects are suitably rewarded with cash prize in Public Examination.
With this I take leave and thank the Management for the wonderful opportunity given to me to work in this institution. I also thank the dignitaries, well wishers, parents, teachers and my dear children for the host of support extended and still extending in the coming years. Above all I thank the Almighty for being with us always.
Thank you.